Best Dog Nail Clippers to Buy in 2020 : Clipping dog nails is a vital part of the overall grooming of your dog. When you start hearing that "click, click" sound on the floor as your dog walks around, you know it's high time to clip its nails. Long nails can injure your dog's feet and also cause damage to your furniture and carpet.
If left uncut, the nails can get infected and ingrown and cause a lot of pain to your doggy. Hence, it is always advised to clip the nails of your dog on time and save him or her from all such discomforts. Make sure that you get your doggy used to this habit at an early age.
For this, you can either go a professional or get it done yourself with a good quality nail clipper designed especially for your dog. If you can manage to get it done yourself the process also helps to improve your bonding with your pet.
#1 Things to Consider before Buying Best Dog Nail Clippers
While selecting your dog's nail clipper always go for the best quality product. A good quality clipper ensures that you get the best cuts while clipping the nails. Always look for a clipper that has the following features:
The size of your dog.
To go for conventional or electric clipper.
Has comfortable, non-slip handles.
Sharp stainless-steel blades.
Ergonomically designed.
Additional features if any.
Durable
Easy to use
Easy to clean.
Definitely safe to use.
#2 Best Dogs Nail Clipper Fan Reviews 2019
#1 Epica #1 Best Professional Pet Nail Clipper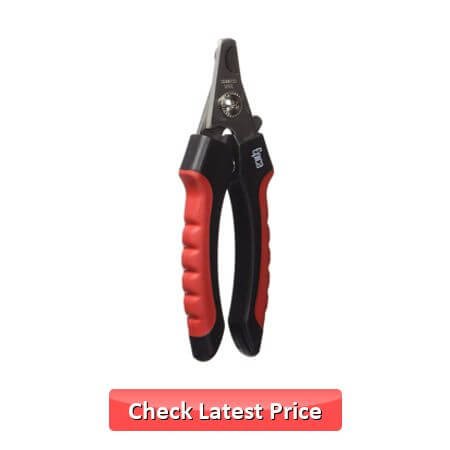 If you are in search of a dog nail clipper with excellent performance record then this Epica Pet Nail Clipper is the best choice. It is a very reliable nail clipper which is much more efficient than any battery-operated nail clipper. This red and black colored dog nail clipper is made of high-quality stainless-steel with sharp blades that help you to accomplish your task in a few minutes. Its blade spacing gives you the proper output. Its anti-slip rubber handle gives you a comfortable grip while cutting the nails and saves from an accident. You can operate it by applying minimum pressure. This heavy-duty clipper won't rust, scratch or bend and will last for years. When not in used its safety lock feature allows you to keep the blades in the locked position to avoid any accident. The clipper is designed specifically for the medium dog breeds like collies, bulldogs, sheepdogs and spaniels as well as large dog breeds like Dalmatians, German shepherds, Great Danes, Golden Retrievers, etc. The nail clipper comes with a 100% Lifetime Warranty. The fact that it has got 4.8 stars to its credit out of 5, establishes its popularity.
#2 Dog Nail Clippers and Trimmer by Boshel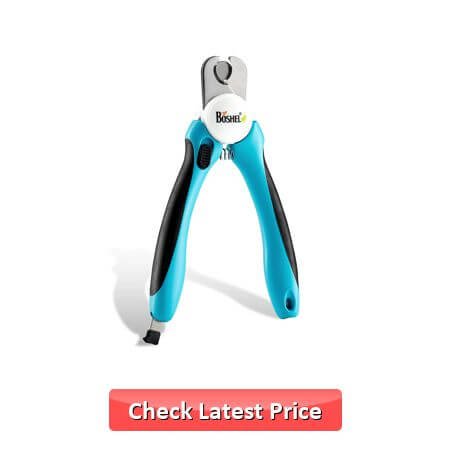 Are you planning to buy a dog nail clipper for the first time then this should definitely be your pick. This Dog Nail Clippers and Trimmer by Boshel come in a bright blue and black combination and is really easy to use. It has a dimension of 7.5 x 2.5 x 0.3 inches and weighs only 4 ounces. Its 3.5mm sharp stainless-steel blades make sure that you cut or trim your dog's nails at one go. This ergonomically designed nail clipper for dogs has a non-slip easy to grip handle. Why it is recommended for the first time uses is because it comes with a safety stop blade that acts as a sensor and reduces the risk of over-cutting and injuring your dog. This is also fit for medium and large dog breeds. Another advantage of this nail clipper is, it comes with a free mini nail file for filing the sharp nails after cutting them. It is accommodated in the left handle of the clipper.
#3 Safari Professional Stainless Steel Nail Trimmer for Dogs
If you are looking for nail clipper for maintaining and trimming your dog's nails then you should go for the Safari Professional Stainless Steel Nail Trimmer for Dogs. This olive green colored nail trimmer for dogs has a dimension of 0.5 x 2.6 x 10.5 inches and weighs around only 1.6 ounces. This effective trimmer comes with long-lasting finest quality stainless-steel with cutting edge blades. Its rubber-coated handles offer you that required grip. The locking blades prevent any kind of accident when not in use. One of the best things about this trimmer is, it is available in different sizes that are suitable for the small, medium as well as large breed dogs. So, you can choose as per your need. With a rating of 4.6 out of 5 stars and a price of only $X.XX this seems to be one of the best picks.
#4 Millers Forge Quality Nail Clipper
If your dog weighs more than 40 pounds then this Quality Nail Clipper from the house of Millers Forge from Italy is the ideal pick. The clipper has been designed keeping in mind the immense pressure required to cut the nails of a large-sized dog. This bright orange nail clipper weighs around 4 ounces and has a dimension of 6.5 x 2 x 0.6 inches. This is known to be the first choice of professional veterinarians and groomers. This structurally strong heavy-duty nail clipper is made of German stainless-steel blades. These blades are not only durable but have that extra-cutting power for a quick and clean cut. This ergonomically designed has stiff handles. Go for this reasonably priced nail clipper for your large breed dog today and add it to their day-to-day grooming items.
#5 CleanHouse Pets Dog and Cat Nail Clippers
Are you in search of a pocket-friendly nail clipper that works on dogs as well as cats? This Pets Dog and Cat Nail Clippers brought to you by CleanHouse should be the ideal pick. This cute little clipper comes in a bright combination of light and dark blue. The stainless steel frame with comfortable handles offers a good grip and is easy to use. The sharp stainless steel blades work great for dogs, cats and bunnies too. The built-in safety switch guards against any kind of injury to the pet. All you need to do is just press the button near the blade to release the clippers and start your job. This durable nail clipper comes with a Lifetime Warranty. It is priced at only $X.XX.
#6 Pet Nail Clippers for Small Animals
Love the environment around you then shift to eco-friendly products right away. Purchasing this Shiny Pet Nail Clipper could be your first move. This is one of the best eco-friendly choices amongst all the available nail clippers for pets as its handles are made out of 100% recycled plastic. It comes in a soothing combination of light olive green and white with anti-slip handles for better grip. It is fitted with stainless steel hypoallergenic razor sharp blades. This clipper is designed especially for the small breeds. It is recommended for professionals as well as home users. You can expect to get the ultimate precision only in one cut. If you are confident enough on how to use it, you should not worry as every pair of Shiny Pet Dog & Cat Nail Trimmer comes with a copy of our 'how to' ebook. The product is also backed by a lifetime money-back guarantee.
#7 Pet Republique Professional Dog Nail Clippers
Do you believe in serving society? Then this dog nail clipper from the house of Pet Republique is definitely for you. They donate 15% of their sales amount to the American Animal Rescue Society that gives shelter to the abandoned pets. This ergonomically designed yellow and black clipper comes with non-slip handles and built-in spring that makes cutting effortless. Its unique angled stainless steel blades allow you to hold in a comfortable position so that you can safely carry out the clipping job. The thick stainless steel blades are durable and last for years. The safety lock helps you to store safely and conveniently. It is suitable for both small and medium breed dogs.
#8 TRIPLE TREE Dog Nail Clippers and Trimmer Set
This Dog Nail Clippers and Trimmer Set brought to you by Triple Tree is a favorite amongst the professional pet groomers, veterinarians, animal trainers and many individual users. It is a four-set kit that includes 2 pieces razor-sharp blades clippers, a trimmer and a nail file. This pet nail clipper is ergonomically designed with high-quality 3.0 mm thick stainless steel sharp blades. The nail file can be conveniently kept back in the left handle of the clipper after every use. It features easy to grip, comfortable, non-slip, ergonomic handles that let you safely use the clipper and prevent any accidental cuts and nicks. The stainless steels are sturdy enough to stay sharp for years. The clipper is fitted with a safety stop blade that minimizes the risk of cutting the nails too short or causing injury to your dog. Though it priced at $XX.XX, the fact that it includes 4 pieces is worth the price.
#9 Gonicc Dog Nail Clippers and Trimmer
If you are in search of one of the best selling nail clipper for your pet dog then get home this Gonicc Dog Nail Clippers and Trimmer today. This comes in a beautiful combination of light blue and black with a dimension of 8.1 x 3.4 x 1 inches and weighs around 5.3 ounces. This lightweight ergonomically designed clipper is easy to grip due to its non-slip wide handles. Its sharp high-quality stainless steel blades allow you to cut the nails with perfection. The safety stop blade reduces the risk of cutting the nails too short. The trimmer also has a safety lock for convenient storage. It also comes with a nail file which is conveniently stored in the handle and allows you to polish the sharp nails to perfection. This trimmer is recommended for small breeds in the early age. It also comes with a Lifetime Warranty.
#10 Dog Nail Clippers Large Breed
For an easy and painless trimming experience for your large breed dog, get this Dog Nail Clippers from the house of Fur Goodness Sake today. This clipper comes in a smart combination of light blue and black and has a dimension of 8.1 x 3.4 x 1 inches. Its ergonomically designed long easy-grip handles along with the accurately engineered stainless steel blades give you clean cuts every time. The Safety Guard makes it extremely safe to use and reduces the risk of injuries. The use of heavy duty material adds to the weight of the clipper. It is not only easy to use but also easy to clean. You need to apply very less pressure to cut the nails of your pet. It is recommended specifically for the large breeds. So, for ultimate great results get home this highly appreciated product today and make your pets happy.
#3 Conclusion
Just like your child, even your pet deserves the best. After going through this article, you must have got a clear idea of the features to look for in an ideal dog nail clipper. So, take your time and select the best for your doggy and slowly get him or her introduced to the process. But one thing you should ensure is that you pick the right size clipper to get the best results and definitely to make the process comfortable for both you and your doggy.